19. Museum - room 9: bled and its region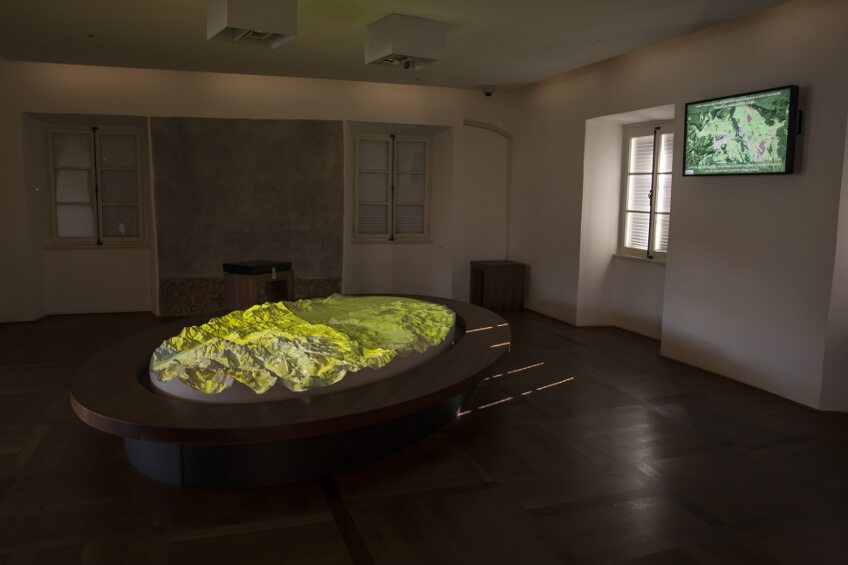 The main exhibit in the darkened room is a model of the Gorenjska region, which stretches from Kranj to the sources of the rivers Sava Dolinka and Sava Bohinjka. The model, illuminated by two projectors, supplements the large panel on the wall behind. Lit from above, like the Earth, the landscape bathing in the twilight lighting takes on an almost surreal appearance. The distinction and connection between the virtual representation of the region and its physical model open up a number of possibilities for modifying or upgrading the content of the installation, which gives the model real educational value. Small in scale, the presentation will give you an overview of the entire region, while the changing time layers will help you understand the natural and cultural features of the area as well as its historical development.
The model's layers include geology, archaeology, settlement, transport routes and, most importantly, the natural and cultural assets of the region. The maps shift from highly analytical to abstract and rather concrete, and the presentation finishes with aerial views of the territory. Fault lines on the geology map illustrate the form and orientation of valley networks. Additionally, the fact that most medieval churches were built above such fault traces highlights the existence of a mysterious link between nature and culture.
The walls of the room feature the early cadastral maps of Bled, showing the spatial distribution and form of all villages in the Bled area in the 19th century.
---