7. Chapel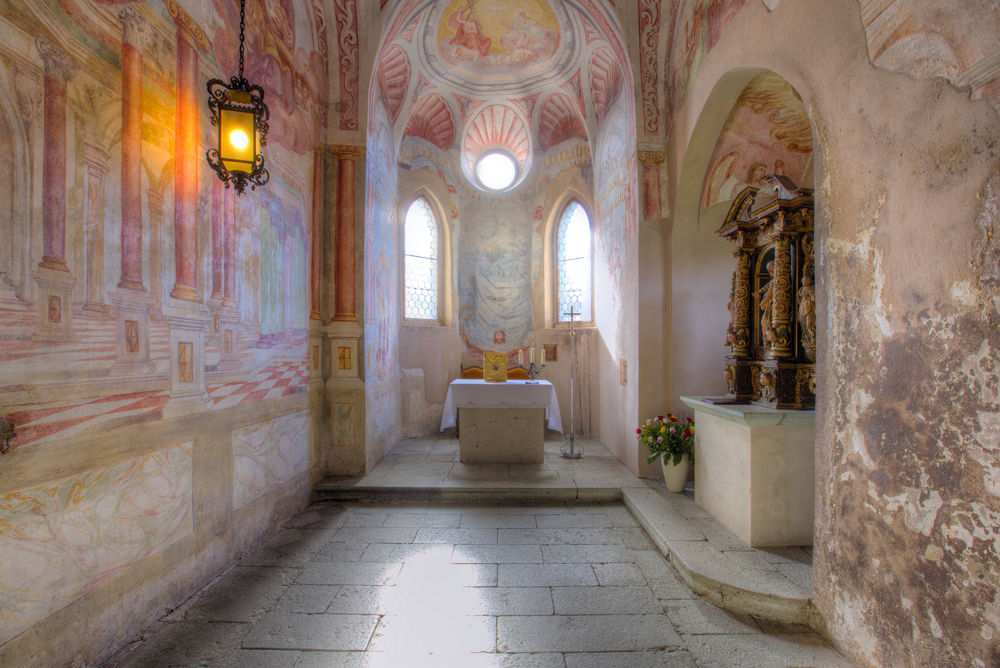 The Gothic chapel dating back to the 16th century sits on top of the castle rock. It is dedicated to the patrons of the Diocese of Brixen in Tyrol, St Albuin and St Ingenuin. Painted in an illusionist manner, frescoes to the side of the altar depict the German King and Emperor Henry II with his wife Kunigunde.
Nicholas of Cusa, or Nicholas Cusanus, a famous Brixen bishop, philosopher and mathematician, one of the founders of the Rennaissance, spent a month-and-a-half at Bled Castle in 1458, preparing for his conflict with the Aquilean patriarch, against whom he later successfully defended the rights of his diocese over Bled Island. He spoke about the history of the estate to his parishioners in the church of Bitnje, Bohinj.
After World War II, the chapel no longer served its purpose. The day of 10th April 2014 will remain in history as the day when the chapel returned to its initial role, for worship and church wedding ceremonies. It was consecrated by the Bishop of Ljubljana, Andrej Glavan, and the Bishop of Bozen and Bressanone, Dr Ivo Muser.
---