25. Castle walls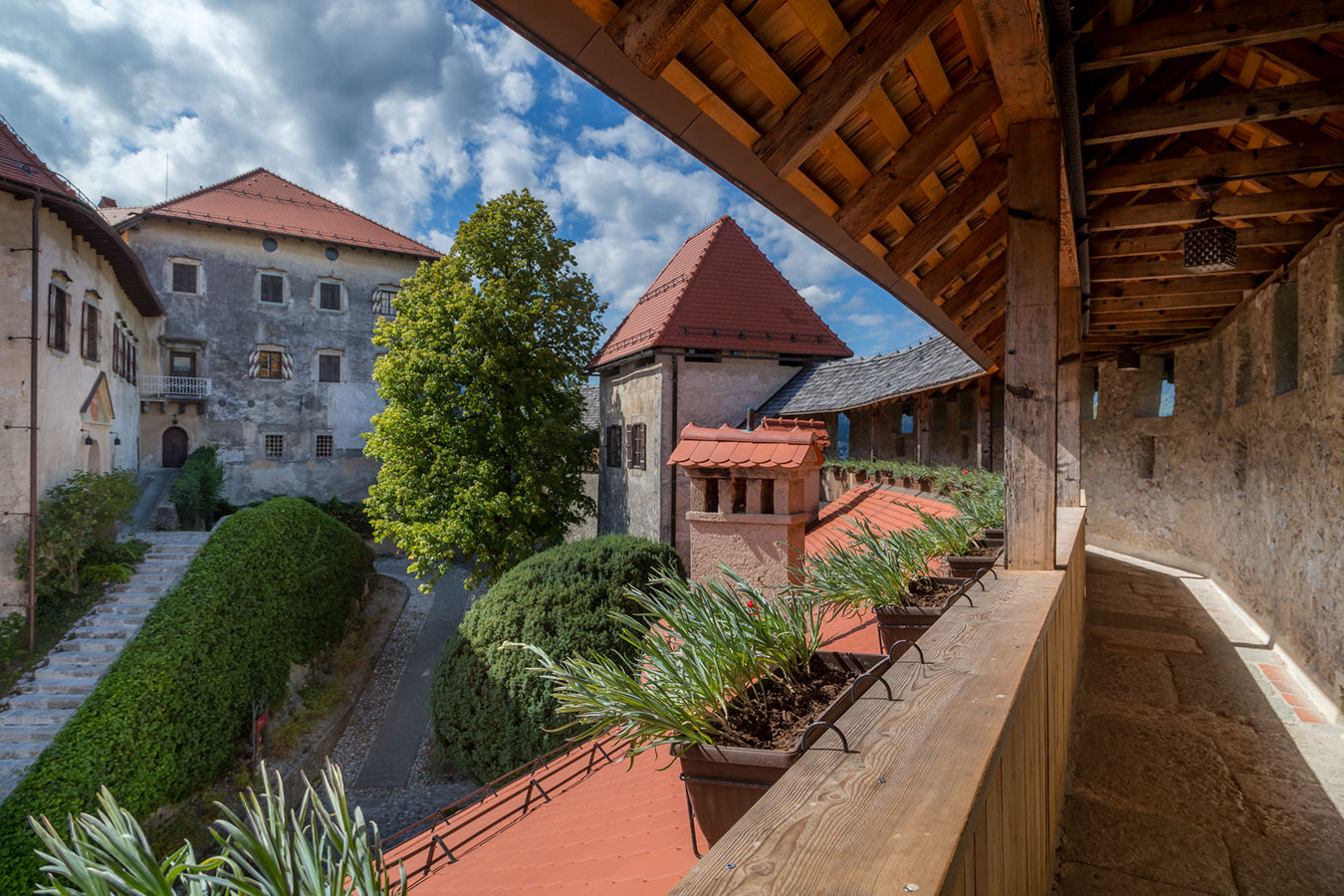 The castle wall offers impressive views of the villages of Zasip and Gorje.
Zasip, or 'the altar of the Gorenjska region', as the village was described by France Prešeren, Slovenia's greatest poet, offers stunning views over Bled and its surroundings, opening up from the Hom hill above the village. To the north, Zasip borders the Radovna river and its 1.6-km-long Vintgar gorge. On its western boundary, it is delineated by the Podhom – Bled jezero railway line, to the east by the Sava Dolinka river, and to the south its plains open up towards Bled. Zasip was first mentioned in historical documents in 1075. An interesting sight in the area is the originally Gothic church of St Catharine on Hom, which was built in the 14th century and has an eventful history.
The 1.6-kilometre-long Vintgar ravine was carved into the magnificent perpendicular slopes of Hom and Boršt by the Radovna river with its cascades and waterfalls, pools and rapids. Laid-out paths and wooden bridges of this theme trail culminate in the magnificent 13-metre Šum waterfall.
Gorje is a group of villages and hamlets located five kilometres from Bled in the direction of the Pokljuka and Mežakla plateaus and the Radovna valley. The area of Gorje streches from the edge of the Blejski kot area, at an altitude of 603m, to the top of Mali Triglav at 2700m above sea level. The stone implements found in the Poglejska cerkev cave near Poljšica date the oldest settlement in Gorje in the Early Stone Age.
Pokljuka is a high karst plateau in the Julian Alps and the largest forested area in Triglav National Park. It is 20km long and almost as wide. Pokljuka is a great starting point for hiking trips in the Julian Alps. On Pokljuka, cattle still graze along forest edges on traditional mountain pastures, where a weary traveller can get a glass of soured milk or taste the delicious curd, butter and cheese straight from the dairy. Pokljuka is also a world-class sporting venue that has been hosting Biathlon World Cup competitions for many years.
---