16. Museum - room 6: images of Bled and famous villas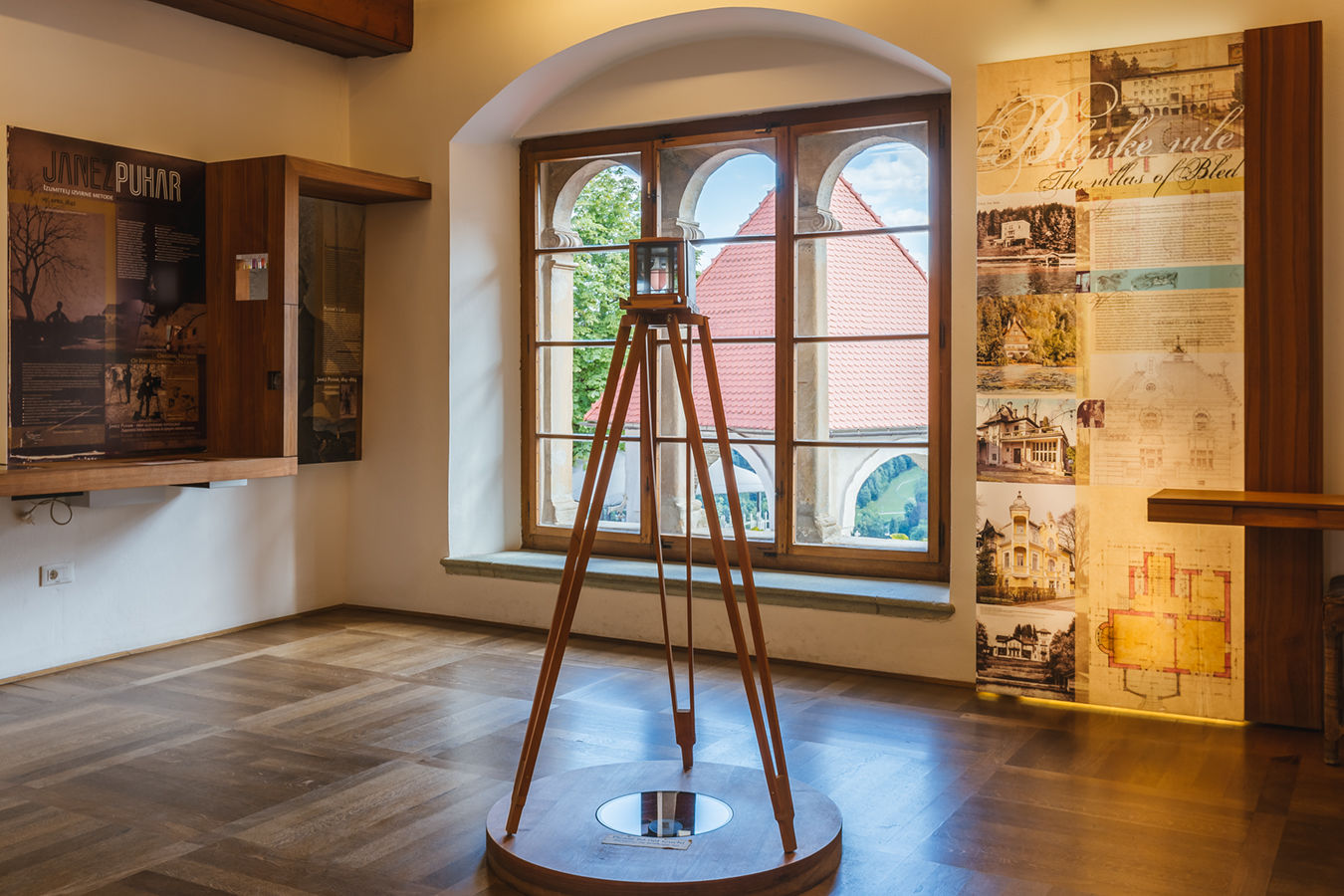 The landing at the top of the stairs, where the Renaissance and medieval tracts meet, reflects the transition from the Middle Ages to the modern era. The camera, which takes us back to the 19th century origins of photography, is pointed at the three-mullioned window, which was brought to Bled from the Renaissance town of Vurberk. Look through the eye of the camera to see how carefully the architect Bitenc chose the size and location of the window to ensure it looks directly at the lapidarium, like old masters who used to position windows so that they offered a clear view of the castle's medieval and Renaissance towers.
The showcase dedicated to Janez Puhar (1814–1864), the inventor of glass-plate photography who spent a few years working in Bled as a priest, presents his photographic innovations and a few samples of this ground-breaking photographic procedure that used glass plates and other accessible materials to make reproducible photographs. The articles published in the Slovenian and international press, as well as Puhar's presentations at various international exhibitions, tell the story of a bright and creative countryside priest who left an indelible mark on the world of photography.
The panel next to the three-mullioned window shows the villas in Bled in the late 19th and early 20th centuries. In the selected photographs, many villas, including the best-known neo-Renaissance Beli Dvor (White Palace), can be seen through a window. The blueprints for the renovation of Hradek's Vila Epos, which the world-famous Slovenian architect Jožef Plečnik designed for the villa owners, the Šverljuga family, are also on display. In the drawer are Plečnik's original drawings, photographs and letters.
---